WELCOME TO THE FARM.
Enjoy a day exploring our spacious tree canopy and meeting all our friends.
GREEN MEADOWS PETTING FARM
So happy you can visit with Belle the milk cow and Elmer the water buffalo who live at Green Meadows Farm along with a small village of very tame animals, including pigs, sheep, goats, rabbits, chickens, and other barnyard animals. Orlando's family-oriented petting farm located in Kissimmee, Florida lets youngsters ride ponies, milk cows, feed sheep and pot belly pigs, take a hay ride, and ride a train.
During the summer months, Green Meadows Farm is fully shaded with huge oak trees and newly installed water misters, keeping visitors cool and comfortable while enjoying the birthday party shelters or fire engine play area.
CLICK ON BELLE THE COW TO VIEW BROCHURE —>
GROUPS.
We welcome group visits of all types.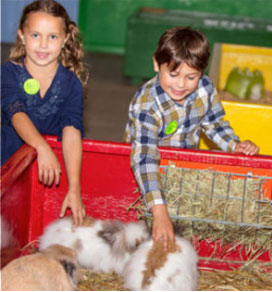 School Field Trips
Students and Teachers LOVE field trips at Green Meadows Petting Farm! Learning can be fun! We provide a hands-on guided tour with information about the animals geared toward the specific age level of the students. Students will learn about pigs, cows, goats, sheep, chickens, turkeys, donkeys, horses and more! All students are encouraged to have first hand experience by touching all of our animals. Plus they will milk a cow, ride a pony, have a tractor drawn hay-ride and a train ride.
For summer fieldtrips you'll appreciate the cool summer breezes under the massive live oaks on the farm and covered picnic area to shield you from the sun. During the fall field trip season every student will visit the "Pumpkin Patch" to pick their own pumpkin.
Birthday Parties
Birthday parties at Green Meadows Petting Farm are a hit with the kids and truly easy on the parents. Let the farm provide the entertainment so you can join in your child's birthday fun. Whether turning 2 or 92 this will be their most memorable birthday ever!
Call today to reserve a date and time for your child's birthday party at Green Meadows Petting Farm. You'll be glad you did and your child will love you for it!
Corporate Outings
Reward and Recognition is crucial to maintaining quality, productive employees. Show your employees that you appreciate their hard work by sponsoring an "Employee's Family Day at the Farm."
Whether you are looking for a gathering place for employees only or an outing for employees and families, we can assist you! Employees and their families: Are you looking for an entertaining venue for all ages? Would you like your company outing to have a personal feeling? We are a family run farm with personal touches that promise to make your outing exactly what you desire for your staff and families.
Employee only: We have the ideal out of the office setting for casual meetings, relaxed time together with co-workers or teambuilding experiences. The farm setting with open spaces is perfect for melting away the office walls and boundaries.
Reunions
Tired of the same old hum-drum reunion? Is the family reunion dropping off in attendance? Plan something new and exciting. We'll guarantee they'll be back year after year! Looking for somewhere unique to hold your class reunion where the classmates' entire families can attend? Green Meadows Petting Farm is just the place you're looking for!
FOR TEACHERS.
Plan your successful class trip to Green Meadows Farm.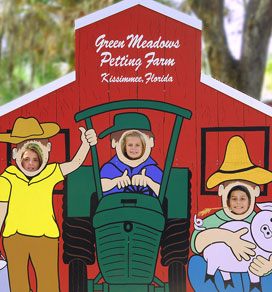 Your Trip Checklist
Deposit is due upon receipt of your confirmation packet to secure your reservation. Deposit required is listed on the bottom of your
CONFIRMATION form.
Farm staff will greet you when you arrive and direct you to Admissions. Please keep your group on the bus while you check in. Your assigned guide will unload your group and meet you at a predetermined location.
Ask each student, teacher & chaperones to wear his/her sticker in a visible location. These stickers allow each person to enter the farm without being stopped by our staff. Everyone must have an admission sticker to enter the farm.
Everyone must pay the admission fee. This includes teachers, aides, chaperones and bus drivers if they are part of the school staff going on the tour.
For every 25 PAID admissions we allow 1 (one) free teacher!
Note: Under NO circumstance can coupons or Gift Certificates be used with group rate admissions.
Tour guide(s) are assigned according to the number given us when your reservation was made. That number should include everyone; teachers, chaperones, children etc.
Adults are expected to assist with students' participation and behavior.
Group members should have their listening ears on, use their walking feet and always follow instructions.
We believe you know your students best when it comes to chaperone/student ratio needs so we do not have a required ratio. However, many teachers find 1:4 works best.
Remind students to bring a bag lunch with a disposable drink container. This is preferable to lunch boxes and thermoses which are often left behind at the farm. YOUR LUNCHES MUST BE BROUGHT IN COOLERS OR PLASTIC TUBS (i.e. Tupperware). The farm has many critters (squirrels and peafowl) which may enjoy your lunch before you!
Note: We have very smart squirrels at the farm too; they will chew through boxes to get to the yummy lunches.
Tours will take place unless the weather is severe. We operate in light rain so rain gear is advised. If you consider the weather inclement, you may cancel up until 8:00 a.m. the morning of your visit and we will gladly reschedule you for another day. If you elect not to reschedule your deposit will be forfeited.
Remind students to dress appropriately for the weather (comfortable walking shoes, raincoats, sweaters, etc.). This is an outdoor event so play clothes are recommended.
Remind students that they may bring extra money. We have items to purchase at our concession and souvenir stand. We have unique toys, gift items and educational materials. Items start as low as .25¢. We also serve cold and hot drinks, cheeseburgers, chips etc.
Pumpkin Policy (Seasonal)
Please allow approximately 15 minutes at the end of your day for your children to select their pumpkins. To guarantee everyone receives their promised pumpkin, we must outline some basic rules.
ONE Admission Sticker entitles that person to ONE free pumpkin.
In the event that someone in your group does not have a sticker (i.e. a child 2 year old or under) pumpkins may be purchased for $3.00. Bus drivers MUST PAY for their pumpkin.
We recommend that each person picks a pumpkin that they can carry themselves. The average size of a pumpkin is slightly smaller than a soccer ball. This size is selected so that most children will be able to carry them.
You may want to encourage your child to bring a plastic grocery bag with handles or old pillow case to help them carry their pumpkin home.
If adults carry pumpkins for children, each child must accompany their pumpkin out of the pumpkin patch.
We request that everyone follow these rules. We will have attendants checking. Please do not put us in the position of "enforcer" as this will save all of us a bit of embarrassment!
Stay Connected With Us On Social Media! You'll find the most up to date information on the farm.