Green Meadows Farm was started in 1964 in Waterford, Wisconsin by Bob and Coni Keyes. That's the year they decided to convert their 80-acre hog and cattle business into a "pick-your-own" vegetables and raspberry farm. (At that time "pick-your-own" farms were a newconcept in produce marketing.) When they discovered that most of the other "pick-your-own" farms in and around the Milwaukee area excluded children, they marketed their farm as a place to "bring the family." They also decided to incorporate some of the farm animals as an additional way to draw in families.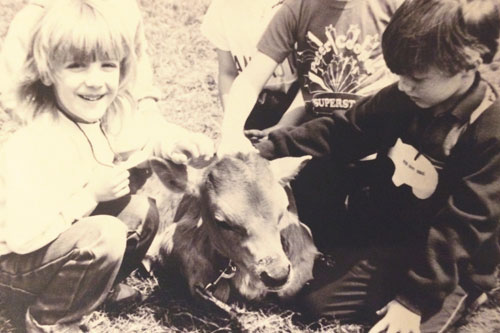 The next year a nursery school teacher approached Bob and Coni about bringing her group to the farm and, voila, the petting farm was born! This led to a postcard promotion to school teachers and the next thing they knew, they were attracting school groups, church groups, scouts and families. Along with Bob and Coni and their children, they employed neighboring men and women to serve as guides and to help give hayrides. In the fall, they offered their customers a free pumpkin. To their amazement, by the early 1970's the farm was hosting as many as 1,200 visitors a day during the spring and fall seasons!
Bob and Coni had found their niche! During their "off season" they expanded to offer horse-drawn hayride parties, sleigh rides, barn rentals for parties, campfires and overnight outings at the farm. They also became "mobile," leaving the farm with ponies to give rides at parties or with draft horses to give horse-drawn hayrides or sleigh ides at events. These activities continued year-round until the mid 1980's brought new ventures their way.
In 1982, one of their older sons, Dan, was becoming disenchanted with city corporate life. One day he saw school buses on a field trip and began to wonder, "Could a petting farm succeed in Houston?" He wrote to his parents and proposed the idea which they found intriguing. They were ready to try something new. Dan located a 50-acre ranch to lease about 40 miles west of downtown Houston. After a considerable amount of work, the second Green Meadows Farm opened for business in the spring of 1983. However, it was a heavy burden for Bob and Coni to run two full-time farms and raise their family. This farm remained in operation until 1991.
At the same time, they developed a new idea; find a park area to lease on a seasonal basis. The park would enhance a country atmosphere. In all probability a park would be located close to schools and have a lot of parking spaces for the buses and cars. They would set up the petting farm just like the permanent farm in Waterford but with temporary shelters and equipment that could be easily dismantled. They would provide some of their own livestock and rent the rest of them from local farmers. At the end of the season, the animals would be hauled to their respective homes and the shelters and equipment packed up leaving the park in the same (if not better) condition then before they arrived. Sounds pretty good right!
In the spring of 1984, Bob and Coni found a perfect "first" spot in Wheaton, Illinois. It was only 100 miles or so from the Waterford farm. This allowed the two farms to share supplies, equipment and livestock. This not only kept the costs down but allowed Bob and Coni to spend more time at home with their family. They went a step further and opened in the fall giving all their customers a free pumpkin. Again, Bob and Coni were on their way. In 1985, they opened seasonal (spring and fall) petting farms in Roseland, New Jersey and Irving, California. In 1986, they opened a petting farm in Floral Park, New York. In fall 1991, they opened another petting farm in Jessup, Maryland that services the Baltimore, Maryland and Washington, DC area.
As you might suspect, Bob and Coni were getting older and they found the Wisconsin weather a little cold so they headed south to Florida. Retire, however, is not in their vocabulary. In November, 1988, they opened a second, full time petting farm in Kissimmee, Florida. This beautiful farm operates 363 days a year and is where Bob and Coni call home. Besides attracting school groups, church groups, scouts and families, Green Meadows Farm is gaining popularity with the tourist trade of the area.
Currently Green Meadows Farms are owned and operated by members of the Keyes family in the following cities: Waterford, WI (Charlie and Mavis Keyes); Kissimmee, FL (Dan Keyes); Hazlet, NJ (Tim Keyes); Orange, CT and Floral Park, NY (Dan Keyes); Jessup, MD, Grand Prairie, TX, and Frederick, MD (Ken and Gail Keyes) and Mulberry Lane Farm, Sherwood, WI (Pat and Bonnie Keyes). We are proud to say that over 500,000 visitors pass through the gates of Green Meadows Farm each year.
But if you thought family participation stops there you'd be wrong! Also contributing are Perry and Barb Keyes who for 20 years grew over 80 acres of pumpkins that supplied many of the farms across the country. Charlie Keyes (being a 2X Guinness Book of World Records Trick Rope champion) not only manages the Waterford farm, but is also an occasional cowboy performer at his brothers' multi-cultural events. Kitty Keyes-Mack on occasion helps as manager of events for her brother Dan. Even the baby of the family, Kelly Keyes, developed all the software to bring the business into the 20th century. Quite the family affair!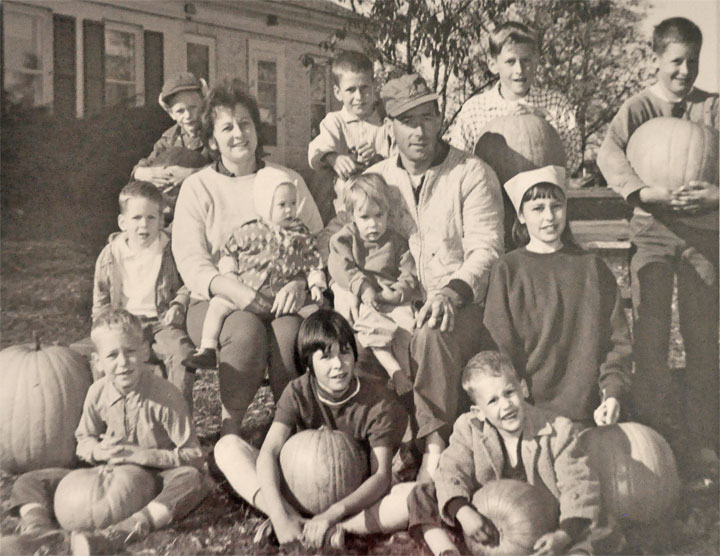 Stay Connected With Us On Social Media! You'll find the most up to date information on the farm.